How to Distribute a Document with DocRead
This guide is aimed at DocRead publishers (or other business users) to help explain how to add audiences or groups to a document that needs to be distributed, then tracked and monitored with DocRead for SharePoint 2010. (In 2013, the process works in exactly the same way, there may just be a few slightly different mouse clicks)
Note: You need to be a DocRead publisher to be able to assign user groups or audiences to a document. This permission is granted at Site level in the DocRead 'site settings' menu.
1. Firstly you need to navigate to a DocRead enabled SharePoint library and upload your document. You need to ensure that you have completed all the usual check in and publishing routines as normal (DocRead does NOT bypass standard SharePoint security).
If you are uploading your document for the first time you will see this screen, otherwise click 'edit properties' against an existing document in a the library to view this screen.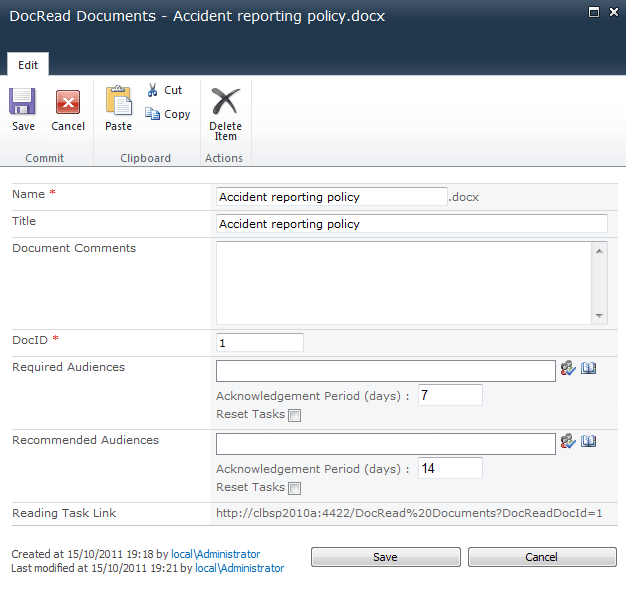 2. Any comments you enter in the 'document comments' box will be displayed to the user when they log on to complete the task. This is useful if you want to give additional instructions about the document (e.g. "Paragraph 2.1 has been changed, please ensure you read this carefully").
3. Select the required and recommended audiences that you wish to view the document.
Required Audiences should be chosen for 'must read' documents where compliance is essential. Required tasks will fall overdue if not completed by the due date and email reminders will be sent if the Collaboris Notification Scheduler is being used.
Recommended Audiences can be used where the information being sent is for information purposes only and does not need strict completion deadlines or overdue reminders.
Tasks sent to both types of audiences can be tracked and monitored by the reporting suite, the only real difference is the creation of overdue status and reminder emails for required tasks.
Note: The Acknowledgement period shown reflects the default settings set up by the SharePoint Site Administrator during the Initial Set Up process. They may be amended as each specific document is uploaded to a more appropriate value for that document.
3. Use the 'Browse' icon DocRead to display the list of available user groups or audiences for this Site Collection.
4. Click on the required groups or audiences (you may choose as many as you wish) and click 'Add', then 'OK'.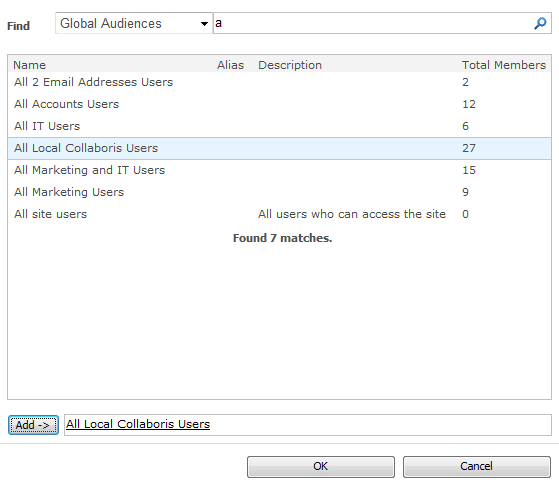 5. Once the document window is complete, click 'Save'.