How to maximise the impact of the My Reading List
Hiding Completed Tasks
If your 'my reading' task web part is full of completed tasks then congratulations – you are making good use of DocRead!
If you would rather not display completed tasks to the user and would rather they focussed on assigned or overdue items then you can amend the webpart in two simple steps as follows:
1) Log on as an administrator, click on the down arrow in the top corner of the DocRead web part and select 'Edit Web Part'.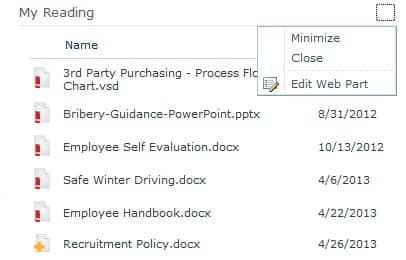 2) In the 'Display Settings' menu ensure that 'Display Completed Tasks' is not selected.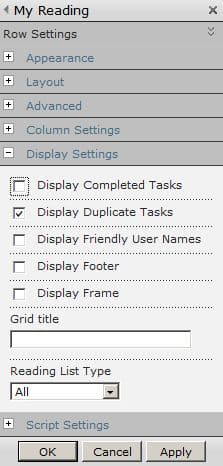 Changing the displayed columns
If you would like to add or change the number of columns that are displayed in the DocRead web part simply edit the web part as described above and select the columns you wish to include.