How to Add Users to a SharePoint Group
DocRead for SharePoint is the only policy management software that integrates straight into SharePoint and allows compliance professionals to distribute and track their policies and procedures.
When speaking with customers, I often need to supply them with quick "how to" guides that help remind them how to do some of the most common tasks required to be a skilled DocRead administrator.
This blog post explains in very simple terms how to add users to a SharePoint group! Treat it as a quick-reference guide.
1. Log in as an administrator and navigate to the site where the group is to be used.
2. On the site's home page select 'Site Actions', then 'Site Settings'.
3. On the Site Settings page, within the 'Users and Permissions' section menu select 'People and Groups'.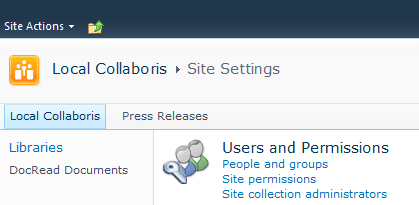 4. On the 'People and Groups' page either:
Click the name of the group to edit in right hand column or
Click the 'Groups' header to present all groups and click the 'Edit' link next to the desired group name.

5. Once the desired group has been chosen, click 'New' to select the users to be added to the group.