DocRead now forces users to "read" and download a document before confirmation
DocRead for SharePoint is the only policy management software that integrates straight into SharePoint and allows compliance professionals to distribute and track their policies and procedures.
As requested by the majority of our customers, we are proud to announce that DocRead 1.2 now has the ability to force users to "download" a document before they can confirm and agree to the terms.
How does it work ?
We have tried to keep it is as simple as possible for the end-user. Now, when a user arrives at the confirmation tab (accessible from a DocRead web part, document library, or a link in an email) – they are now 'forced' to click on 'view document' before being able to confirm. This enables us to ensure that the user not only opened the document, but was able to access the document at the time of confirmation. If you are using DocRead for compliance purposes as many of you are, then we strongly recommend you do use this functionality.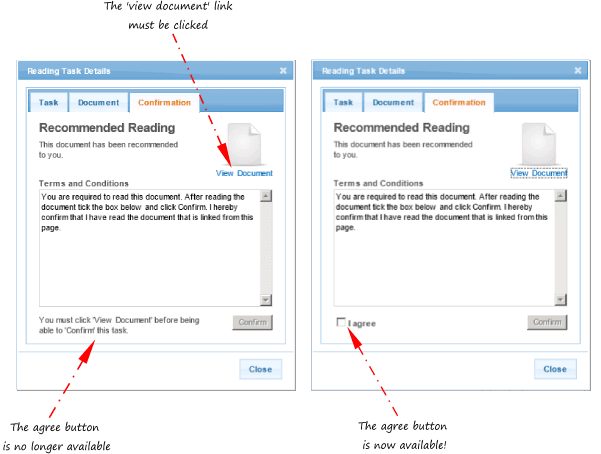 However, on some sites you may just want to use DocRead for recommended reading, or may just not require this functionality. Due to this, we made it configurable so you can turn it "on" or "off" as you so wish.
Force View Document – Central Admin
There's now a new setting in Central Admin that acts as the global default. This means if you place web parts throughout your sites (and don't activate the DocRead site features), then this setting instructs DocRead whether to force the user or not.

Force View Document – Site level
Lastly, as referred to above, the setting at Central Admin can be overridden at the site level. This means that you can force users to view before confirming by default, but in certain sites make it non-mandatory.
Hope this gives you some insight into how we are constantly listening to customers wishes and improving DocRead with every release.