Keep track of all your SharePoint, Office 365, Azure and Yammer Blogs in one place
Last week I pushed a new blog aggregation service for Office 365 live under the domain of O365.Technology. The main aim for O365.Technology is to aggregate and categorise all of the RSS / Atom feeds around the subject of Office 365.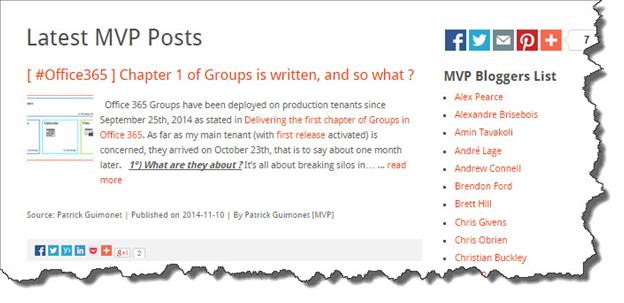 Why did I do it?
I got increasingly frustrated trying to "keep up" with the latest blog posts, podcasts and shows covering SharePoint. This problem has become more dfficult now that we are also expected to keep upto date with the various Office 365 services and products coming on-line (as well as that small matter of Azure).
I have tried (several times) to keep up using social networks like Twitter, Facebook, LinkedIn, Yammer and Reddit, but they never really worked out for me. They all required me to be logged in and watching at the point when the "status" or Tweet got pushed out.
In my worklife I am really passionate about 2 things, namely, Community (e.g SharePoint-Community.Net and SP24) and also the products we develop at Collaboris (DocRead and DocSurvey). Dealing with all those doesn't leave me with a lot of "me time" to get my daily techno fix.
Why not Feedly?
I could have used one of several RSS aggregators such as Feedly, but decided to go with a custom solution which I could customise and share with others. I also have plans for a new O365 Directory site so this fits nicely (watch this space).
What now for SharePoint-Community.net?
This is by no means a replacement for SharePoint-Community.Net and it doesn't mean I will be spending any less time there. SPCOM will always be more of a "social network for SharePoint" where you can go to discuss, chat and have a place to blog. Vlad and I obviously realise that we need to start to cater more for Office 365, so will be thinking around how to do that without disrupting the existing site. Hopefully, O365.Technology will help in some way.
What are the categories within O365.Technology?
As you'd expect, I have created several sub-categories within O365.Technology and it currently contains around 130 feeds (although this grows weekly and eventually we plan to get them all). The categories are as follows:
Are you a blogger?
If you blog and want to be included then please fill in this form.
Can you link back?
If you think the service is useful, please help me to tell others by adding a link back from your site. As thanks, I will include you as a 'featured blogger' which gives your posts a little more time in the limelight. If you do happen to add a link back then please contact us here and we will make sure you are featured.
Anyway, that's all from me … hope you like it and please let me know if you do!
cheers
Mark